Everything You Need To Know About Bait Boats
Technology that is developed for or adopted by the recreational fisheries sector (e.g., anglers and the recreational fishing industry) has led to rapid and dramatic changes in how recreational anglers interact with fisheries resources. From improvements in finding and catching fish to emulating their natural prey and accessing previously inaccessible waters, to anglers sharing their exploits with others, technology is completely changing all aspects of recreational fishing.
Bait boats are amongst the most exciting bits of smart fishing equipment you'll probably ever get to purchase. This essay will walk you through the basic knowledge about bait boats and some tips to choose your bait boats and to help you maintain your bait boat once purchased, keeping it prime for the water.
About Bait Boats
A Bait Boat or Baitboat is in basic terms a remote-controlled boat designed specifically for Carp, Cat or Pike fishing in mind. Available in various sizes and designs plus many different features including rear rig droppers, various lights etc...
Bait boats are a fantastic tool for the modern-day carp angler. They can stealthily and accurately deliver your rigs and bait to your chosen spots; they can even help you find your spots in the first place thanks to the addition of an echo sounder or sonar
Many bait boats come fitted with an echo sounder or sonar, this transmits back to the handset or mobile device allowing the angler to see the topography of the lake bed, how deep it is, how much weed or silt is present and even the water temperature!
GPS is another feature of some advanced bait boats and like the sonars or echo sounders they can be purchased as an addition at a later date.
How Do Bait Boats Work?
Well, if you have ever used a remote-controlled car before they are very similar, except they are boats not cars! All bait boats are operated by a remote-control handset that pilot the boat to where you want it to go. Hoppers on the boats hold your rig and bait, and they are opened by the handset to deliver your rigs and free offerings to the exact spot you want. Some boats have autopilot function with which you can preset a route and hopper as you like on the app (such as CatchX bait boat). If your model doesn't have that feature, simply pass your rig up underneath the hull and into one of the hoppers, closing the door will hold your rig securely in place. It's important to steer in as straight line as possible as tight turns could cause your main line to tangle under your boat.
How to Choose the Right Bait Boat?
Choosing the correct boat can be a difficult decision to make, not only financially but also finding a package that exactly caters for your needs. Here are things you have to pay attention when choosing you bait boat.
Propeller VS Jet Propulsion (Impeller)?

A Propeller is an external outboard motor, whilst jet propulsion uses internal jets to propel the boat. Jet propulsion on CatchX is considered superior as they are usually faster, quieter and thus stealthier, as well as being effective over weedy terrain.

Size – Thinking about the type of conditions you'll be using the boat in could save you in the long run when it comes to size and design. Generally, taller models fare better on wave prone venues but are more susceptible to the wind conditions. Obviously, size also effects bait capacity, but some boats have the ability to carry bait and rigs in separate chambers and this is certainly worth considering if you use multiple rods fished in different locations (such as CatchX). Size is also important when it comes to PORTABILITY as some models are much bigger than others.
Range – If you plan on fishing particularly large venues then you must take into account the range different bait boats can reach. This can vary dramatically (from about 100m to over 1500 metres) and the last thing any angler wants is their boat sailing off uncontrollably into the distance!
Battery Usage – Some bait boats use a lot more battery than others and can run out of power quickly. A power supply to recharge at the venue is not usually an option, so it's worth considering that for some bait boats you can get solar chargers, incredibly useful when down by a venue for a long session. There are also other extras that come with some bait boats…
Added Extras – For some models you can purchase extras that bring more functionality to the table. GPS systems, Echo Finder Attachments, and solar chargers, make it easier to find the fish, drop baits in exactly the same spots, map out the features in the water, and keep your boat powered and ready for action.
Problems & Servicing- Depending upon your confidence and engineering skills, some anglers might like to take a hands-on approach to fixing a fault with their bait boat, particularly if they are already at the venue.
The CatchX Bait Boat offers everything you need to hit the hard-to-reach spots that you cannot cast to. It's light, compact, and offers a bait capacity of 3kg across 4 hoppers, built-in GPS as standard using a map of the lake to set your spots. Large battery capacity offering 2.5-3 hours playtime. With its autopilot function, you're able to preset routes on Rippton app, on which all the spots can be logged.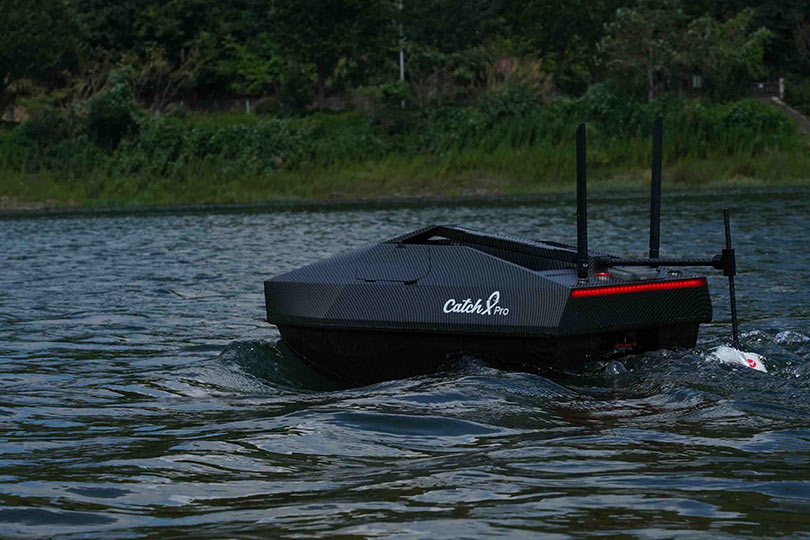 Bait Boat Maintenance
Here are some important guidelines for keeping your bait boat and its performance optimal.
After use ensure the boat is fully dried, otherwise water corrodes connections and the electrics.

Leave boat in open airy conditions when not in use, particularly when its hot, to avoid condensation build up.

Similarly ensure the handset is kept dry.
There certainly seems a lack of consistency in the build quality of many bait boats. If you do encounter a problem contact the Manufacturer immediately.
---