Rippton Seizes Spotlight at the 2023 EFTTEX with Smart Fishing Tackle
Rippton Smart Fishing Gear, the trailblazer in fishing technology, made a groundbreaking debut at EFTTEX 2023 in Budapest, the largest trade exhibition for the European fishing tackle industry. Notably, Rippton's CatchX Pro bait boat won the coveted "Best New Product" award, while all of their other showcased products received recognition as runners-up in the same category. This exciting milestone highlights Rippton's commitment to revolutionizing sea fishing and carp fishing with their smart fishing gear, including fishing drones, bait boats, and bite alarms.
The star of Rippton's lineup was the CatchX Pro bait boat. Equipped with Rippton's state-of-the-art M2 chirp technology, the CatchX Pro ensures a stable connection to your phone. Its Autopilot function allows anglers to effortlessly set baiting spots through the app, enabling the bait boat to autonomously navigate to the desired destinations. It even features fail-safe mechanisms that bring the boat back home in case of signal loss or low battery.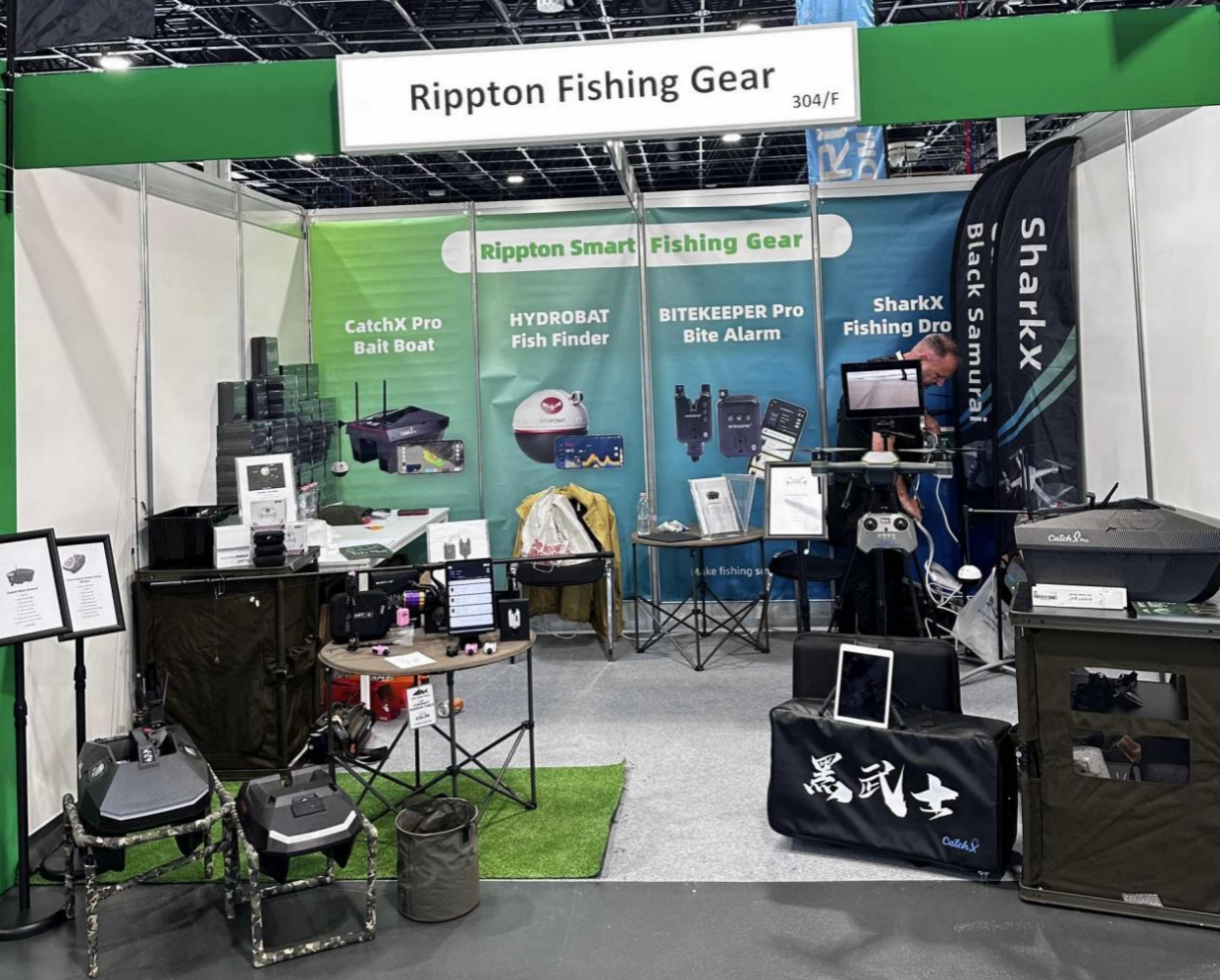 This remarkable bait boat boasts a powerful 300-meter fish finder and an integrated app function, providing anglers with invaluable information on water depth, temperature, and fish location. The CatchX Pro's sonar offers multiple mapping modes tailored for different fishing scenarios, creating a personalized bathymetric map on the Rippton app. This allows anglers to choose the ideal spots for baiting or hook placement.
Interference between fish finders and bait boats is a common issue, but Rippton has tackled this challenge. The CatchX Pro's integrated technologies ensure seamless operation without signal loss or interference.
Rippton also introduced the BiteKeeper Pro, a compact bite alarm set perfect for carp fishing. With up to four wireless bite alarms and a matching receiver, the BiteKeeper Pro offers smart technology that allows users to customize sensitivity, volume, and LED light color through a dedicated app. In addition to the traditional black, the BiteKeeper Pro is offered in stylish white and pink options, adding a touch of personalization to the fishing gear. "This bite alarm set is a breath of fresh air in the fishing bite alarm market," comments Simon Wilson, a carp fishing enthusiast with over 10 years of experience. "Love the sleek design!"
Rippton's presence at the 2023 EFTTEX Show demonstrated their commitment to making fishing smarter. The CatchX Pro and BiteKeeper Pro showcase their dedication to enhancing the fishing experience through advanced features and user-friendly interfaces.
Whether you're an experienced angler or a fishing enthusiast looking to elevate your skills, Rippton's smart fishing tackle is a game-changer. Join the fishing revolution and experience the future of fishing with Rippton's innovative products.
About Rippton
Founded in 2017, Rippton is a forward-looking smart fishing tackle company focused on building fishing products and solutions for anglers. By far, the product range has included independently developed smart fishing drones, bait boats, bite alarms, fish finders etc. All the smart devices can be controlled by the APP "Rippton".
---