Unleash the Power: The Dynamic Duo of the BiteKeeper Pro Alarm Set and its Companion App
Designed to enhance your fishing experience, BiteKeeper Pro Alarm Set combines advanced technology and innovative features to ensure you never miss a bite. And to take your fishing gear to the next level, we introduce the BiteKeeper App – a seamless companion that works hand-in-hand with the BiteKeeper Pro Alarm Set. Let's explore how this dynamic duo empowers you to optimize your fishing game.
Lightweight and Convenient
The Bitekeeper App is designed to be lightweight and user-friendly, taking up minimal space on your smartphone. With just a few taps, you can easily control and customize your BiteKeeper Pro Alarm Set. Say goodbye to complicated settings and hassle - everything you need is conveniently accessible. The app seamlessly connects to the receiver and pairs with up to 3 bite alarms, ensuring smooth communication between all your devices. You can even utilize the receiver's flashlight feature directly through the app, providing added convenience during low-light conditions. With the convenience of controlling these settings directly from your phone, you can easily customize your alarms without leaving your tent, especially on a rainy night.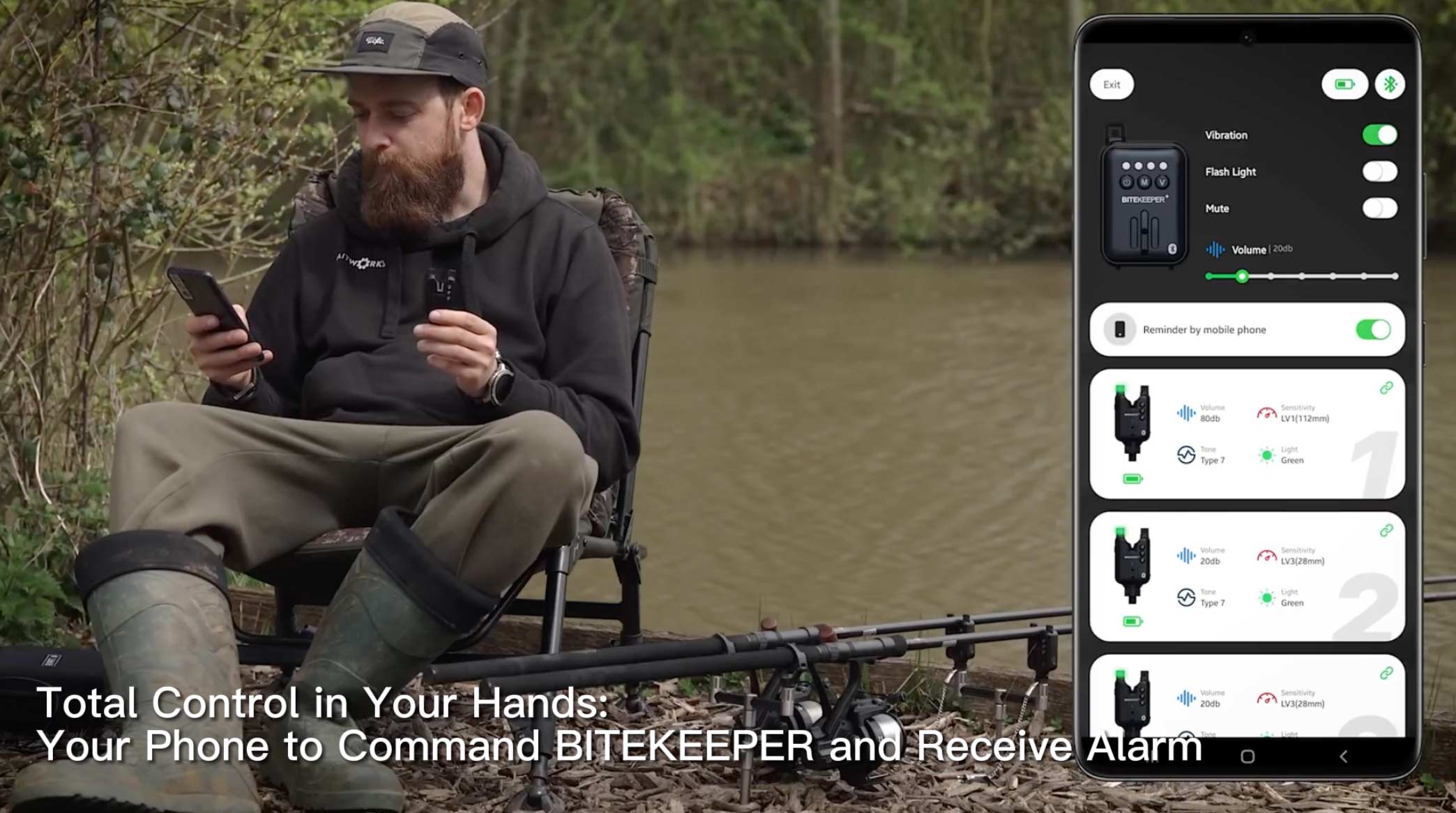 Easy-to-Use Interface
The Bitekeeper App offers seamless alarm configuration options, making it incredibly easy to set up your alarms. With features like silent mode and vibration mode, the app caters to various fishing scenarios and ensures that different fishing needs are met. Moreover, the inclusion of vibration mode enables deaf anglers to effectively utilize this alarm system, providing equal opportunities for all anglers.
Customizable Settings
Easily customize your alarms to your liking with this intuitive Bitekeeper App. Whether you're a seasoned angler or a beginner, using this app is a breeze - even a child could do it without any tutorials. Personalize each alarm by selecting from a variety of colors, tones, and sensitivity levels. Fine-tune the volume to guarantee that you never miss a single bite. Furthermore, the app displays comprehensive and concise information about your alarms, including battery status. Stay informed and ready for every fishing scenario.
Real-time Notifications
Stay connected and never miss a bite with real-time notifications sent straight to your phone. The Bitekeeper App ensures that you are always aware of any activity at your fishing spot, even if you are away from your rods. Whether you're multitasking or simply relaxing, you can rely on the Bitekeeper App to keep you informed and ready to reel in that prized carp.
But the Bitekeeper Pro Alarm Set offers more than just a convenient app. Here are a few other standout features of the alarm set:
Compact and Sleek Design
The BiteKeeper Pro Alarm Set is impressively compact. In fact, they are only slightly larger than the AirPods charging case, making them effortlessly pocket-sized. You can conveniently carry them with you wherever you go, ensuring that you're always prepared for your fishing adventures. Additionally, the alarm set comes with a dedicated protective case to ensure the safety and security of your valuable equipment during transportation and storage. With its sleek design and convenient size, the BiteKeeper Pro Alarm Set adds a touch of elegance to your fishing gear while offering easy portability.
IP66 Waterproof Rating
Don't let fishing conditions hinder your performance. The BiteKeeper Pro Alarm Set is equipped with an IP66 waterproof rating, making it resistant to splashes and rain showers. Fish with confidence, knowing that your alarm set can withstand the elements and deliver reliable performance in any weather.
Simultaneous Charging and Usage
Say goodbye to interrupted fishing sessions due to dead batteries. With the BiteKeeper Pro Alarm Set, you can charge your alarms while still using them, ensuring that even your marathon fishing sessions are a breeze. Now, you can confidently face those extended fishing periods without worrying about losing valuable time due to separate charging and fishing schedules. This innovative feature guarantees that you'll always be alerted when a carp bite occurs, allowing you to focus on reeling in the big catch without any interruptions. So go ahead, cast your worries aside and enjoy uninterrupted fishing bliss with the BiteKeeper Pro Alarm Set!
Stylish Customization Options
Choose from three stylish colors – pink, white, and black – to personalize your BiteKeeper Pro Alarm Set. Match your fishing gear to your personal style and preferences. For that extra touch, the alarm set even offers custom engraving services. Add your name or a special message to make it truly your own.
The Bitekeeper App is the ultimate companion for your BiteKeeper Pro Alarm Set. With its lightweight and user-friendly interface, customizable settings, and real-time notifications, the app provides seamless control over your fishing gear. Paired with the alarm set's compact design, IP66 waterproof rating, simultaneous charging and usage capability, and stylish customization options, the BiteKeeper Pro Alarm Set are no doubt the best carp bite alarms set that revolutionizes your fishing experience.
---